CSB85H
Powdered Metal Sintered with Solid Lubricants
Features
CSB85H Powdered Metal self-lubricating bushings are manufacture using a sintering process to solidify the "PM". Suitable for high load applications or in position where the lubricating and greasing is hard to access thus dry operation may be needed. The optional backing material are Bronze, Steel or Stainless steel. Depending on the working conditions, working temperature, loading, linear speed and environmental requirement, there are optional solid lubricants such as graphite, MoS2. The embedded solid lubricant structure will continuously provide a low friction working surface to the bearing; therefore, the bearing service life is extended considerably. Compared with the traditional sintered parts, this material has better wear and high temperature resistance features.
For more information on our sliding bearing bushing materials and applications download our catalogue
"CLICK-HERE to DOWNLOAD CATALOGUE"
You can also contact our global sales team by sending a message online through our website
"CLICK-HERE to SEND A MESSAGE"
Structure
Suitable in dry conditions, can be maintenance-free
Has a high load capacity
Wide temperature range -200 ℃~ +600 ℃;
You can re-radiation environment and vacuum environment
Material has good electrical properties, without the static phenomenon;
Suitable in dust conditions / corrosive environments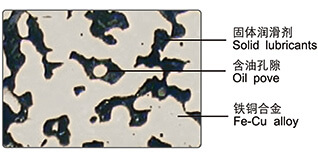 Tech. Data

Typical Applications
Joint bushes for excavator
Rod-end bushing for hydraulic cylinder
Link bushing for construction and heavy industry machinery, like wheel loader, dump truck, forklift, crane etc.
Tie-bar, Cross guide bar bushes for Injection molding machinery, die casting machinery

Industrial robot joint bushes
Guide bushing for molding equipment
See more about bi-metal bushing / sliding bearing applications "CLICK HERE"