CSB-820
Bi-metal Steel Backed Lead-free Bronze Bushings
Features
Bi-metal Steel backed lead-free bronze layer provides high specific loads, excellent fatigue strength under dynamic and shock load application, superior performance under oscillating movement, indents and grooves in the bushing lining provide a reservoir for grease and thus allow extended re-greasing intervals. Lead free bushing lining can meet EC directive of 2000/53/EC.
This product group can be manufactured in various configuration or customized.
-Trust or Bearing Plates
-Flanged Bushing
-Welded Joint Bushing
-Split Joint Bushing
-Clench Lock Bushing
-Specialized machined features
For more information on our sliding bearing bushing materials and applications download our catalogue
"CLICK-HERE to DOWNLOAD CATALOGUE"
You can also contact our global sales team by sending a message online through our website
Structure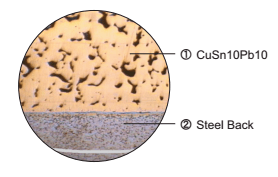 Tech. Data

Typical Applications
This bi-metal bushing material is recommended to be used under the medium speed and medium load condition with oil or grease lubricating. It is widely used for motor rod ends, Kingpin bushing, undercarriage rollers, hydraulic cylinder rod eyes of construction machines and spherical joint bearings of agricultural machines. See more about bi-metal bushing / sliding bearing applications "CLICK HERE"
Size
For sizing details download our catalogue "CLICK HERE" or Contact us by sending a message "CLICK HERE"
You May also like to look at these other products we offer below!