CSB-800
Steel Backed + Lead Bronze Powder
Features
Steel shell backed with a lead bronze lining bushing material for oil lubricated applications. This material has high load capacity and good fatigue properties. It is widely used in automotive applications such as compressors, steering gear, power steering, pedal bushing, king-pin bushings, tailgate pivots, mechanical handling and lifting equipment, hydraulic motors, agricultural machinery etc.
Structure
1.Sintered bronze lazer: God wear resistance and excellent load carrying capacity.
2.Steel backing:Setting the foundation of the bushings,the steel back provides exceptional stability, load carrying and heat dissipation characteristics.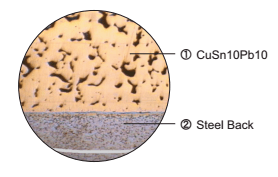 Tech. Data

Typical Applications
This material is recommended to be used under the medium speed and medium load condition with oil or grease lubricating. It is widely used for motor rod ends, Kingpin bushing, undercarriage rollers, hydraulic cylinder rod eyes of construction machines and spherical joint bearings of agricultural machines. Because this material is with lead, the specific parts are not allowed to be used according to certain laws or regulations.