CSB-22
Bi-metal Steel Backed Bronze with PVDF/PTFE Bearing Bushing
Features
The special resin has excellent wear resistance and low friction. Oil / grease pockets or grooves are suitable in bushing design. The resin surface can be machined again after assembly in order to obtain higher tolerance. Comparing with POM, the application range of PVDF material larger.
For more information on our sliding bearing bushing materials and applications download our catalogue
"CLICK-HERE to DOWNLOAD CATALOGUE"
You can also contact our global sales team by sending a message online through our website
"CLICK-HERE to SEND A MESSAGE"
Structure
1.PVDF/PTFE 0.30~0.50mm. It has high wear resistance and low friction even only minute of lubricant are supplied.The bearing surface carries a pattern of circular indents which will be filled with grease on assembly of the bearing.
2.Sintered bronze layer 0.20-0.35mm. A special composition of powdered copper is thermally fused to the steel backing. This contact layer acts as an anchor for the PTFE layer and conducts the thermal build up away from the bearing surfaces.
3.Low-carbon steel. Setting the foundation of the bushings, the steel back provides exceptional stability, load carrying and heat dissipation characteristics.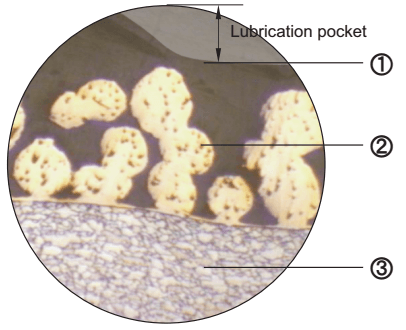 Tech. Data

Typical Applications
The recommended application conditions are the high load, high temperature and high polluted environment with grease or oil lubrication. It has excellent wear resistance. This material is widely used in the kingpin bushing, piston pump, agricultural machinery. It is especially well-suited for applications where lubricant can not be supplied continuously or repeatedly. See more about bi-metal bushing / sliding bearing applications "CLICK HERE"
Size
For sizing details download our catalogue "CLICK HERE" or Contact us by sending a message "CLICK HERE"
You may also like to look at these other products we offer below!