CSB-50DH
Bi-metal Steel Backed Bronze PTFE/Fibre Bearing Bushing
Features
Comparing with normal CSB-50, the thicker PTFE layer of this material is machinable after assembling to achieve a higher tolerance grade. At the same time, the thicker layer provides flexible torque range and a large range of clearance requirements for variaty of applications.
For more information on our sliding bearing bushing materials and applications download our catalogue
"CLICK-HERE to DOWNLOAD CATALOGUE"
You can also contact our global sales team by sending a message online through our website
Structure
1.PTFE/Fibre mixture thickness 0.03-0.08mm. The PTFE layer is the contact surface for the rotating shaft . Minute particles of the PTFE layer and the sintered bronze material combine to create a solid lubricant film, which coats the shaft.
2.Sintered bronze layer thickness 0.20-0.35mm. A special composition of powdered copper is thermally fused to the steel backing. This contact layer acts as an anchor for the PTFE layer and conducts the thermal build up away from the bearing surfaces.
3.Low-carbon steel backing. Setting the foundation of the bushings, the steel back provides exceptional stability, load carrying
and heat dissipation characteristics.
4.Plating,provides good corrosion resistance.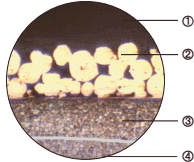 Tech. Data

Typical Applications
The application of this material is similar with of normal CSB-50 material, but it is an optimized material for the application of automotive industry like door hinges, trunk hinges, bonnet hinges, dampers and seats etc. See more about bi-metal bushing / sliding bearing applications "CLICK HERE"
Size
For sizing details download our catalogue "CLICK HERE" or Contact us by sending a message "CLICK HERE"
You May also like to look at these other products we offer below!